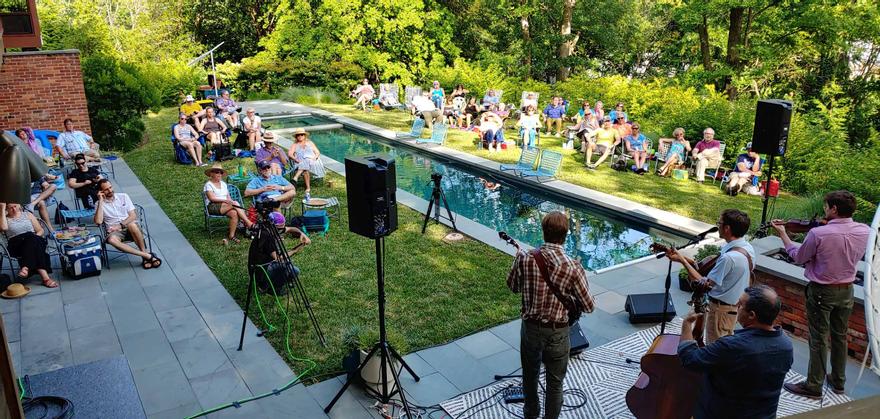 We are committed to celebrating songwriters, live music, and community with all proceeds directly supporting the artists.
The Sevareid House is a unique showcase of the mid-Atlantic mid-century modern vernacular..
World-class musicians and local talent alike perform in the intimacy of our groovy pad in Alexandria, VA. Whether in the living room or our backyard -- you'll enjoy an intimate and up-close performance of some of the best talent around. Best of all - YOU are supporting these artists and YOU make the music happen.
---
House concerts are a wonderful grassroots phenomenon where world-class touring musicians and local talent alike perform in the comfortable intimacy of private homes and similar nontraditional spaces.
Exactly what is a house concert?
The definition's flexible, but generally, it's a show that's presented in someone's home or nearby private space.
---
If the answer to any of these questions is YES, then you have a wonderful surprise in store: House Concerts.
Do you like to sit up front near the stage at folk/ acoustic concerts, so that it seems almost like the performers are playing a private concert just for you?
Do you get annoyed with people talking loudly at the next table or back bar when you are just trying to enjoy the music?
Is it a long drive (or a downtown parking nightmare) before you can hear music at your favorite club or coffeehouse?
Have you wished that someone would open a great venue right in your neighborhood – someplace safe, clean and fun to visit?
The audience is smaller than at a coffeehouse or club.
The money collected at our home goes straight to the performers, with no "profit motive" on our part.
There are House Concerts being given in almost every part of the U.S. and Canada. Some house concerts are "one-shots," but most are presented as a series.
Please consider your reservations as a commitment; last-minute cancellations (or just not showing up!) mean empty seats and a smaller payday for the performer(s).
Our Friends and Colleagues