Alternative Folk Duo Flagship Romance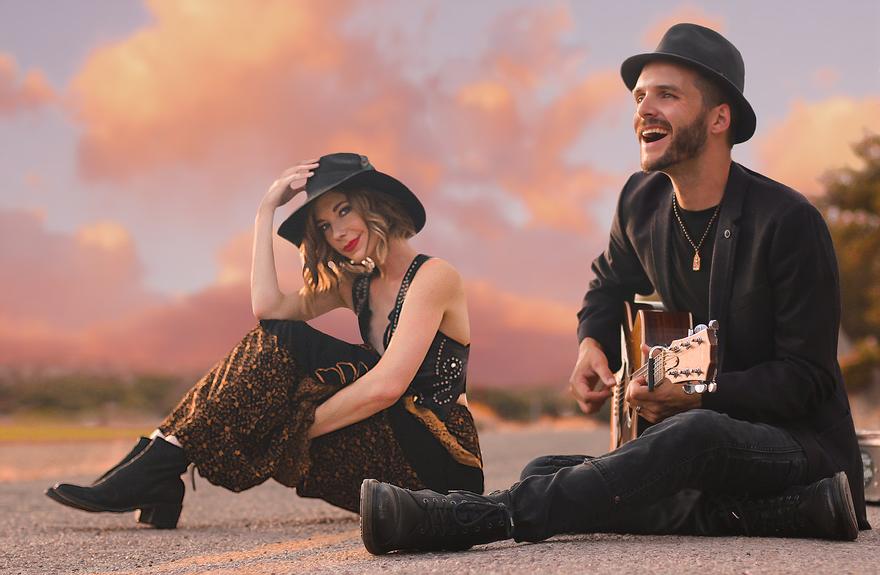 When love and skill work together, expect a masterpiece. John Ruskin (1819-1900)
It may be that the famous English art critic Ruskin uttered these words well over a century ago, but they remain relevant today, perfectly describing the life of married couple Shawn Fisher and Jordyn Jackson. As the Truth or Consequences, NM-based Harmonic Alternative Folk duo Flagship Romance they live, work, and annually travel tens of thousands of miles together, deeply in love with each other and the process of bringing their emotionally powerful music to the people. It is an inspiring union of hearts, minds and souls that entrances all who encounter them and their art.
"Their songs & vocals have a simmering intensity... I also suspect Fisher used to play in rock bands, as he tended to attack his guitar with an unbridled ferociousness." - Mayer Danzig // Twangville
Flagship Romance are on the road for upwards of eight months a year, and have been pretty much since the release of their 2013 debut EP, The Fudge Sessions. If ever a testament to this extraordinary work ethic were needed, it would be the reaction to the crowdfunding campaign they launched to finance their 2014 full-length debut, an ambitious and ultimately stunning CD/DVD project entitled Fee Fie Foh Fum. Recorded live off the floor difficult to comprehend considering its quality the album captures the bristling energy of Flagship Romance live shows, and was created with the considerable backing of the duos rapidly burgeoning legion of fans, to the tune of over $25,000.
On the back of such a successful project, one that emphatically delivered on their promises, a sophomore full-length was hotly anticipated. Lo and behold, another overwhelmingly positive Kickstarter campaign ensured that Flagship Romance could craft 2017s Tales from the Self-Help Section exactly as they wished to, employing a subtly richer sound and new vocal approaches by Jordyn.
This concert is a private event. It is for friends and friends of friends. We sell tickets in advance to reserve seating as it is limited — we usually sell out. All of the proceeds from the sales of the reserved seating go directly to the artist. Please reserve your seat WELL IN ADVANCE. House concerts are a wonderful grassroots phenomenon! World-class musicians and developing local talent alike perform in the intimacy of private homes and similar nontraditional spaces!