The Black Feathers Return To The Sevareid House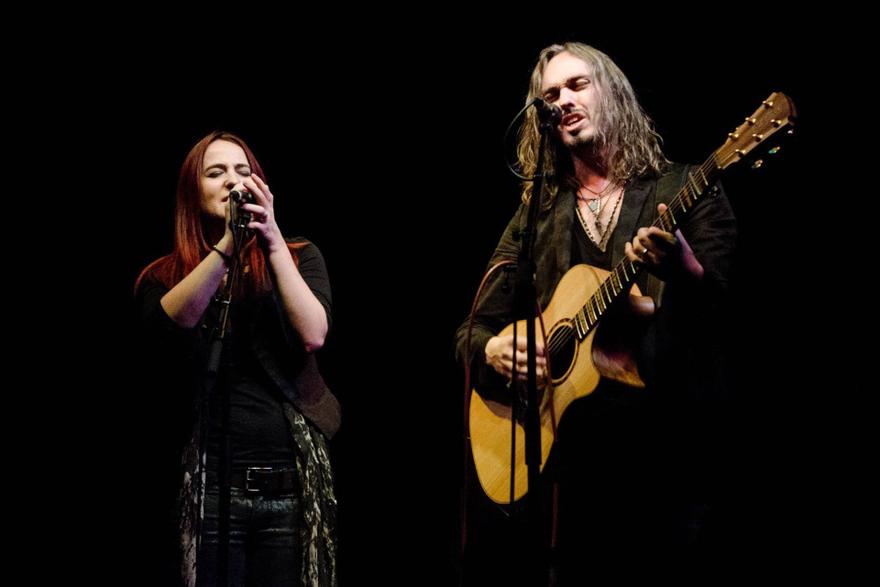 When the world locked down in March of 2020, we were a pandemic pod for several days with The Black Feathers. They were due to be our first show of the year that year but, of course, everyone's plans changed and they waited out British Airways to negotiate their way home from the U.S.
This duo spends several months every year touring across the US leaving behind their home in the countryside of Wales. They've hit many of the major festivals across the country and they will be coming to us this year after an appearance at the prestigious Philadelphia Folk Fest. We're privileged to host them again and excited for many more people to hear the new music they spent the first year of the pandemic making.
The ability to write songs that are both modern and ancient is a rare thing. The product of an arcane art of weaving in traditional influences so thoroughly that they become the warp and weft of fresh creations.
The Black Feathers, made up of Ray Hughes and Sian Chandler, are two such talents. They first became aware of the magic between them while collaborating on several musical projects, becoming The Black Feathers and life partners in 2012.
"Once in a blue moon, the whole soars far above the sum of its parts. That's what happens when The Black Feathers perform live"
- Black Mountain News, North Carolina
Americana, Folk, and Acoustic Indie Rock sensibilities coexist comfortably in their musical world, with Hughes' guitar work buoying the kind of harmonies often only heard in family bands. Their music quickly draw the interest of listeners, but it is the stage chemistry that will keep them riveted.
THIS IS AN OUTDOOR SHOW. We will not require masks in the backyard but ask that you bring one if you need to use the bathrooms inside and in case of rain, which will move the show indoors. Bring a lawn/beach chair, a drink and your snacks and enjoy live music in our award winning garden.
This concert is a private event. It is for friends and friends of friends. We sell tickets in advance to reserve seating as it is limited — we usually sell out. All of the proceeds from the sales of the reserved seating go directly to the artist. Please reserve your seat WELL IN ADVANCE. House concerts are a wonderful grassroots phenomenon! World-class musicians and developing local talent alike perform in the intimacy of private homes and similar nontraditional spaces!