Chrys Matthews & Heather Mae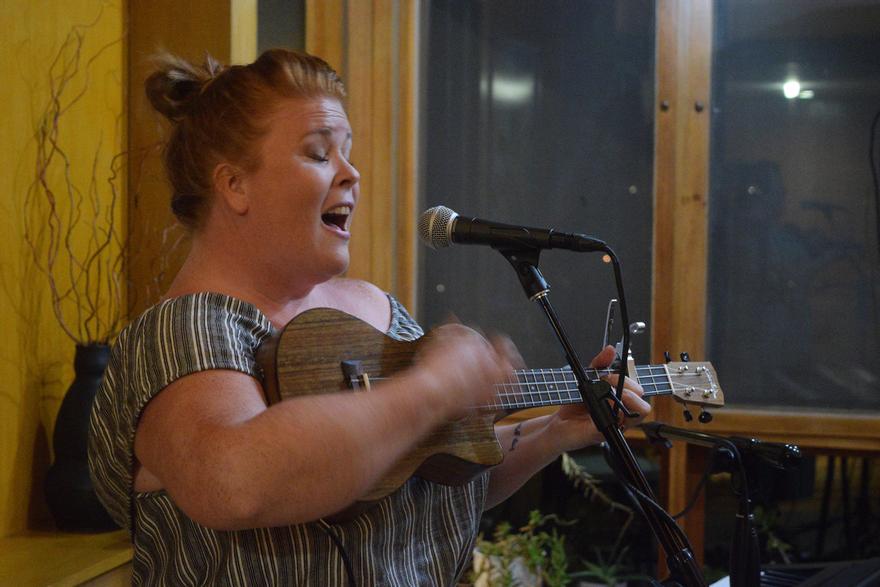 We have some very talented people right here in the DMV! Funny how I had to travel to Connecticut to hear these two for the first time! I'm really excited to present two of my favorites from the Northeastern Folk Alliance conference last November.
CRYS MATTHEWS is nothing if not ambitious. In August 2017, she simultaneously released both a new full-length album, The Imagineers and an EP, Battle Hymn For An Army Of Lovers. These collections showcase two sides of Matthews dynamic songwriting; The Imagineers is a selection of thoughtful songs about love and life while Battle Hymn For An Army Of Lovers tackles social justice themes. Songs from both projects have already won her recognition and awards. She was one of ten finalists (from a pool of 5,000) in this years NewSong Music Competition and, after performing at Lincoln Center on November 30th, she was named grand-prize winner. Matthews also won the People Music Networks Social Justice Songs contest at the 2017 Northeast Regional Folk Alliance.
A southeastern North Carolina native who now calls Herndon, Virginia home, Matthews blends Americana, folk, jazz, blues, bluegrass and funk into a bold, complex performance steeped in traditional melodies and punctuated by honest, original lyrics. Having been compared to everyone from Toshi Reagon to Tracy Chapman to Ruthie Foster, Matthews eclectic infusion of genres has won her honorable mentions at the 2017, 2013 and 2014 Mid-Atlantic Song Contest and extensive radio play from Woman of Substance radio to WTJU-Charlottesville and WMRA-Harrisonburg to KBOO-Portland.
Equally at home in an acoustic listening room as she is on stage at large music festivals, Matthews has quickly gathered a loyal following on the east coast playing such prestigious venues as the Sundance Film Festival, The Birchmere, The Hamilton, and Jammin Java. Matthews festival and showcase roster has included BMI's
Island Hopper Songwriter Festival, the 40th Michigan Womyns Music Festival, Folk Alliance International, 30A Songwriters Festival, Northeast Regional Folk Alliance and many more.
An imaginative lyricist with a powerhouse voice, HEATHER MAE is forging new ground with her newest album. Entitled I AM ENOUGH, the collection was dubbed a KickStarter Staff Pick within its first week, smashing through its $15,000 fundraising goal and on its official release date - June 10th, 2016 - peaked at #58 on the iTunes Pop Charts. All of this without the support of a label.
With producer Mark Williams (Sucker Punch Recording Co.) at the wheel, the collection of five songs is a bold breakout from her former years as a folk singer-songwriter strumming a ukulele. Mae breaks ground in I AM ENOUGH not only for her interesting indie-pop sound, but also for her musical take on touchy subjects ranging from LGBTQ discrimination, gender stereotypes, body image, and mental health issues. This is what sets Mae apart;; she seeks to write music for those that need an anthem and doesn't shy away from tackling topics not often heard in pop music.
In 2017, Mae was dubbed the winner of Songwriter Showcase at the prestigious Rocky Mountain Folks Festival in Lyons, CO. She will be returning in 2018 to play a full set on the main stage. Mae won 2nd place in the prestigious Telluride Bluegrass Festival in Telluride, CO, was named the People's Choice Award winner of the Wildflower Festival's Singer-Songwriter Showcase in Richardson, TX, and landed an Official Showcase at the International Folk Alliance Conference in Kansas City. In 2016, Mae was selected as a finalist in the Kerrville New Folk Competition, International Songwriting Contest, and Falcon Ridge Songwriter Showcase.
::: Photo gallery by Amir Rahim
This concert is a private event. It is for friends and friends of friends. We sell tickets in advance to reserve seating as it is limited — we usually sell out. All of the proceeds from the sales of the reserved seating go directly to the artist. Please reserve your seat WELL IN ADVANCE. House concerts are a wonderful grassroots phenomenon! World-class musicians and developing local talent alike perform in the intimacy of private homes and similar nontraditional spaces!