Ethereal Canadian Singer-Songwriter Annie Sumi with Travis Knapp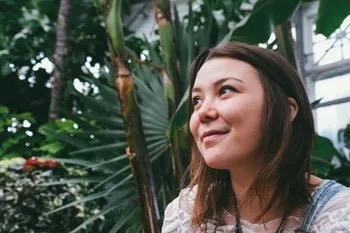 "If you'd like to hear the future of contemporary Canadian folk music, take a listen to the sophomore release from Annie Sumi." - Penguin Eggs
"There is a beautiful, natural lilt to Sumi's voice and she's capable of delivering world-weariness, deep yearning, or arresting fury." - Matt Williams, NOW Magazine
"Sumi's songs are contemplative and thoughtful, songs that one would expect to be written by someone that has walked this planet for three, maybe four decades." - Ben Yung, The Revue
Annie Sumi is a mixed-race, ethereal-folk artist from Canada. Her music is intimate and expansive, inviting the listener into a familiar otherworld. Inspired by the mirrored relationship between physical and emotional landscapes, Sumi's music speaks of human experience through lyrical reflection.
Since 2015, the Ontario-based songwriter has released two critically-acclaimed albums and toured her music across Canada, parts of the U.S. and Europe. Both Reflections and In the Unknown have been awarded with a number of nominations as 'Emerging Artist', 'Female Vocalist', and 'Songwriter of the Year', and received support from national and international radio.
Sumi's third album, Solastalgia, was written at the foot of Sleeping Buffalo Mountain on Stoney Nakoda and Blackfoot territory at the Banff Centre for Arts and Creativity. The album digests terminology found in Dr. Glenn Albrecht's Earth Emotions in hopes of creating conversation about the ongoing climate emergency.
"Solastalgia is the 'homesickness you have when you are still at home'. In a lot of ways, this word shattered me: to be a human and feel a deep connection to the Earth as 'Home' and simultaneously participate in the structures we have created to destroy it. Now, it seems like we are slowly remembering to listen to the land and follow the lead of people that have been living traditions of connection and conservation. That space of humility, gratitude, and deep listening is where these songs have come from.
Solastalgia explores the feeling of homesickness in our environment, in our relationships, and in ourselves. Through song, the artist dares to dream about how community and cooperation could restore the symbiotic relationships on our planet. Solastalgia was released on October 8th, 2021, and is available on all platforms now.
This concert is a private event. It is for friends and friends of friends. We sell tickets in advance to reserve seating as it is limited — we usually sell out. All of the proceeds from the sales of the reserved seating go directly to the artist. Please reserve your seat WELL IN ADVANCE. House concerts are a wonderful grassroots phenomenon! World-class musicians and developing local talent alike perform in the intimacy of private homes and similar nontraditional spaces!