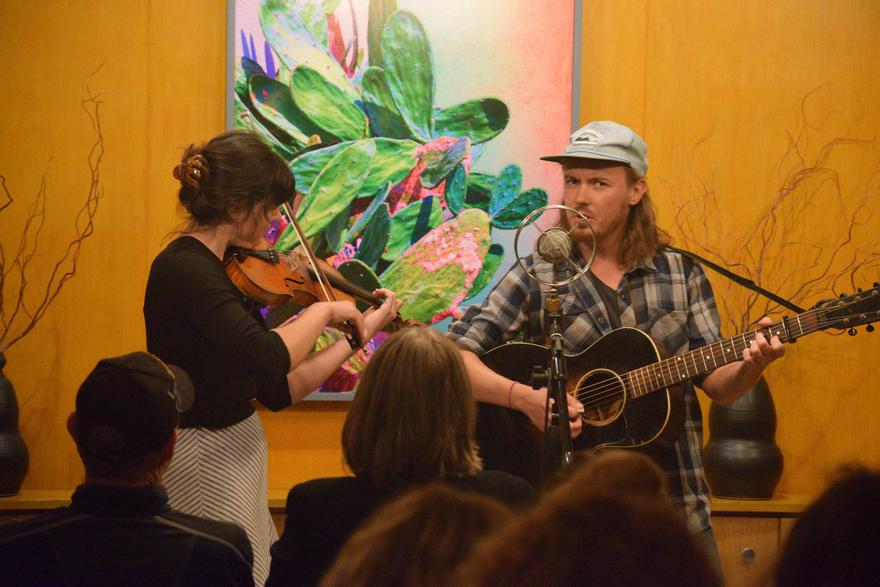 In early 2013, a mutual love of American folk music brought Amy Alvey (fiddle, guitar) and Mark Kilianski (guitar, banjo) together. They call themselves Hoot and Holler as a nod to the hootenanny song gatherings during the folk revival of the 1960s, while also hinting at the infectious energy that occurs during a barn dance in the south. After cutting their teeth in Boston's burgeoning roots music scene for two and a half years, they could not help but heed the call of the open road, and spent the better part of 2016 touring nationally while living in their camper van "Irene". Ever inspired by the enduring spirit of traditional Appalachian mountain music, they now call Asheville, North Carolina their home. Their songwriting comes across as simple, honest, and fresh to the ears. Fans of tight duo harmonies will love the tender harmonizing between Amy and Mark that falls in line with masters like Gillian Welch and Dave Rawlings. Both are Berklee College of Music alumni, and the listener can expect the polished technique of conservatory training, in tandem with the grit, drive, and soul of musicians like Bill Monroe or Ola Belle Reed.
Their new full-length album "Reasons To Run" plays like a sonic cross-country road trip. The album starts off with a cajun groove harkening to the Louisiana swamps, while "Too Many Reasons To Run" was inspired by the sparse beauty of the Southwestern desert. With other geographical references to Virginia, New Orleans, and Kentucky, Hoot and Holler invite you to experience their soundscapes, described as a "fresh and distinctive blend that can only be earned the hard way - through thousands of miles and hundreds of nights on the road." -Patrick Coman, WUMB's Local Folk
Hoot and Holler has shared a bill with the notable acts: Ricky Skaggs, Red Tail Ring, The Revelers, Sam Moss, Roochie Toochie and The Ragtime Shephard Kings, Charm City Junction, Mark Mandeville and Raianne Richards, Dan Blakeslee, Sarah Jane Scouten, Hannah Shira Naiman, Twisted Pine, The Brother Brothers, Two Guys Named Ben and Lula Wiles.
::: Photo gallery by Amir Rahim
This concert is a private event. It is for friends and friends of friends. We sell tickets in advance to reserve seating as it is limited — we usually sell out. All of the proceeds from the sales of the reserved seating go directly to the artist. Please reserve your seat WELL IN ADVANCE. House concerts are a wonderful grassroots phenomenon! World-class musicians and developing local talent alike perform in the intimacy of private homes and similar nontraditional spaces!