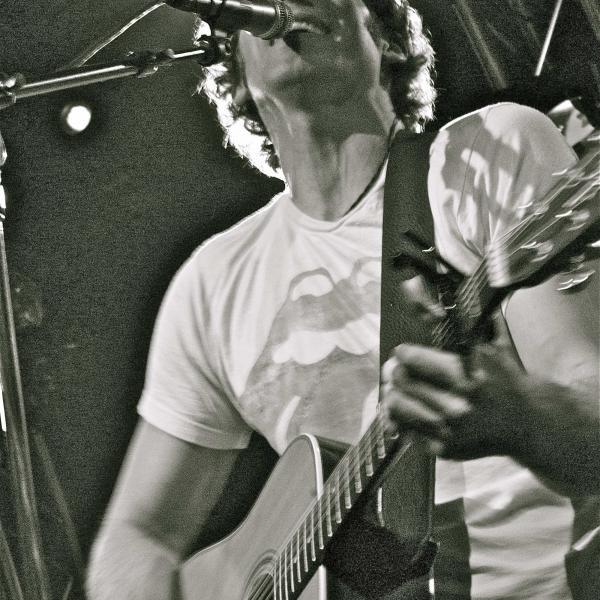 LAST SHOW OF 2019! A true musical journeyman, Jesse Terry has made it his mission to share his love of music fully and completely, without regard for shading his emotions or tempering his convictions. By his own definition, he's never been a cautious individual, but rather one who finds inspiration and optimism in the solace and joy making music brings him; and that which he can impart to others. In that regard, his artistic quest has become satisfying and self-fulfilling.
Since the start, Jesse has found time to reflect and reminisce. By contrast, his early life was turbulent. "I'm only happy now because I know how difficult life can be," he maintains. "I am so grateful, because even though I've travelled down some painful roads, I've met many more people that have had it a lot worse. I now realize that happiness is a choice, a daily choice in fact. It's about creating your own place in the world and your own path that no one can steal or deny. Music and songwriting helped illuminate that path for me."
Still, that path wasn't so clear early on. Growing up, he spent time in reform schools and in shelters as a runaway. After ending up in the hospital at the age of 18 following an overdose of illicit substances, he woke up to the fact that his life would have to change. "Music didn't completely overtake me until I started writing my own songs around age nineteen," he recalls. Motivated by his parents' love of music, he found a new depth of devotion and discipline.
Learning to play on his mother's guitar and laying down vocals to his father's instrumental accompaniment at his dad's home studio, he found his initial inspiration in the Beatles, Roy Orbison, Bruce Springsteen, Brian Wilson and the remarkable singer/songwriters of the '70s -- James Taylor, Joni Mitchell, Jackson Browne, CSNY, and Paul Simon, among them.
After attending Berkley School of Music, Jesse landed his dream job working for a publisher in Nashville and turned his attention towards writing songs full time for five years. A downturn in the economy left him out on his own, but he took the opportunity to tour the world with his new wife Jess by his side. Gripped by what he calls his "perpetual wanderlust," he's been at it ever since, driven by a mission that he says has "been a great ride so far."
He pauses to consider his good fortune. "The tapestry of my life is woven through human connection, healing and unity. This is what music has allowed me to experience."
Accompanying Jesse will be Tom Hampton on steel guitar, lap steel, guitars and mandolin. Tom is one of the best and has played with all kinds of folks including Marshall Tucker Band. Was just out with Poco recently on a big ole tour bus! He's coming all the way up from Nashville. Tommy Geddes, drummer and percussionist, will round out the trio.
This concert is a private event. It is for friends and friends of friends. We sell tickets in advance to reserve seating as it is limited — we usually sell out. All of the proceeds from the sales of the reserved seating go directly to the artist. Please reserve your seat WELL IN ADVANCE. House concerts are a wonderful grassroots phenomenon! World-class musicians and developing local talent alike perform in the intimacy of private homes and similar nontraditional spaces!