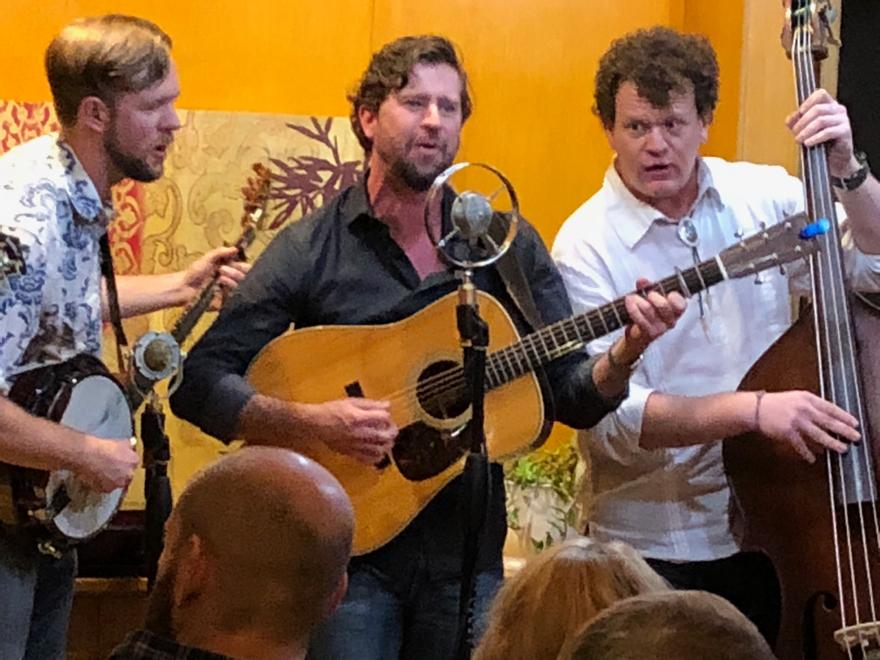 Let's face it, Philadelphia isn't exactly known as the bluegrass music capital of the world. While the city's thriving music scene is one of the best in the nation, Philly's signature sound in the twenty-tens has much more to do with distortion guitars than banjos. That's just one of many reasons that the chance encounter in 2014 between two Northern Liberties neighbors that led to the formation of Man About a Horse was so unlikely. Three years later, the band has blossomed into one of the area's most exciting bands on the American roots music scene.
Each of the five Yankees in the band found their own unique avenue to bluegrass and acoustic roots music in their youths, and their paths didn't cross until adulthood. As children of the 1990s, they also have pop music in their blood, and can't resist re-interpreting modern popular music in an acoustic string band context (Radiohead, anyone?), balanced with the fresh originals and ripping bluegrass standards that comprise their set lists.
Man About a Horse has performed at festivals around the northeastern U.S., and shared bills with the likes of Ricky Skaggs and Kentucky Thunder, The Travelin' McCourys, Danny Barnes, Donna the Buffalo, Wood & Wire, and many others.
Their debut album ("The EP," 2015) earned national airplay and rave reviews. In spring 2017 they self-released their debut full-length album, which debuted at #11 on the Billboard Bluegrass chart.
Man About a Horse is:
Matt Thomas (bass)
Matt "Roy" Royles (guitar)
Dan Whitener (banjo)
Elizabeth Carlson (fiddle & violin)
Matthew Hiller (mandolin)
---
Gallery photographs below by Amir Rahim
This concert is a private event. It is for friends and friends of friends. We sell tickets in advance to reserve seating as it is limited — we usually sell out. All of the proceeds from the sales of the reserved seating go directly to the artist. Please reserve your seat WELL IN ADVANCE. House concerts are a wonderful grassroots phenomenon! World-class musicians and developing local talent alike perform in the intimacy of private homes and similar nontraditional spaces!