Matt Bednasky with Conor and the Wild Hunt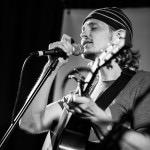 People try to box others in. Genres and artist comparisons are how the public makes sense of a musician. You can't really do that with Matt Bednarsky.
Born to a jazz guitarist and music teacher father and a mother with a classical pedigree, Matt grew up in Shelton, CT engulfed in music. He began violin at the age of 4 (soon after left behind), guitar at age 8, and started singing probably not long after he could make farm animal noises. He first put pen to paper in songwriting at the age of 12.
Matt attended New York University and studied Spanish, Italian, Portuguese, psychology, and music. After studying abroad in Italy, graduating from NYU, and living at an orphanage in Trujillo, Peru for eight months, he eventually found himself back in NYC and immersed in Greenwich Village's singer/songwriter community. However, it wasn't long until he made the move to Nashville in 2013 to dive into Music City's vibrant scene.
Since then, Matt's been full steam ahead.
He's released three full-length studio albums, "A Bigger Picture" (in part executive produced by Ed Cash) in 2014, "Two" (co-produced with Gus Berry) in 2015, and "Luminescence" (co-produced with Neilson Hubbard in 2017.
He's toured the country and the world, playing to audiences in the U.S., Canada, Europe, and Australia.He opened for legendary British artist Joan Armatrading on multiple engagements during her final.
major tour as well as soulful American Idol Season 9 Runner-Up Crystal Bowersox
He was named a 2015 Artist of the Year by Concerts In Your Home.
And, he's built upon his expansive internet presence; currently he has over 2.8 million cumulative views on YouTube.
These days, aside from continuing to tour, Matt's focusing on releasing singles, putting out new music every 6-8 weeks in 2018.
If his story up 'til now is any indication, the future is bright for Matt Bednarsky. His unique style draws influence from a variety of genres including pop/rock, folk, jazz, and blues.
Think somewhere in between James Taylor and John Mayer, with Paul Simon, Jason Mraz, Ryan Adams, and Michael Bublé mixed in.
But, you're better off just throwing those last two sentences out the window and hearing him for yourself.
Conor & The Wild Hunt is a progressive Americana quartet intent on inspiring positive change in a troubled world. With artful and driving instrumentation, blooming four part harmonies, impassioned duets, and a compelling stage presence, Conor & The Wild Hunt animates soulful original songs with modern takes on Americana traditions. They are currently working on an album.
::: Photo gallery by Amir Rahim
This concert is a private event. It is for friends and friends of friends. We sell tickets in advance to reserve seating as it is limited — we usually sell out. All of the proceeds from the sales of the reserved seating go directly to the artist. Please reserve your seat WELL IN ADVANCE. House concerts are a wonderful grassroots phenomenon! World-class musicians and developing local talent alike perform in the intimacy of private homes and similar nontraditional spaces!