Nashville's Kyshona Armstrong with Eli Lev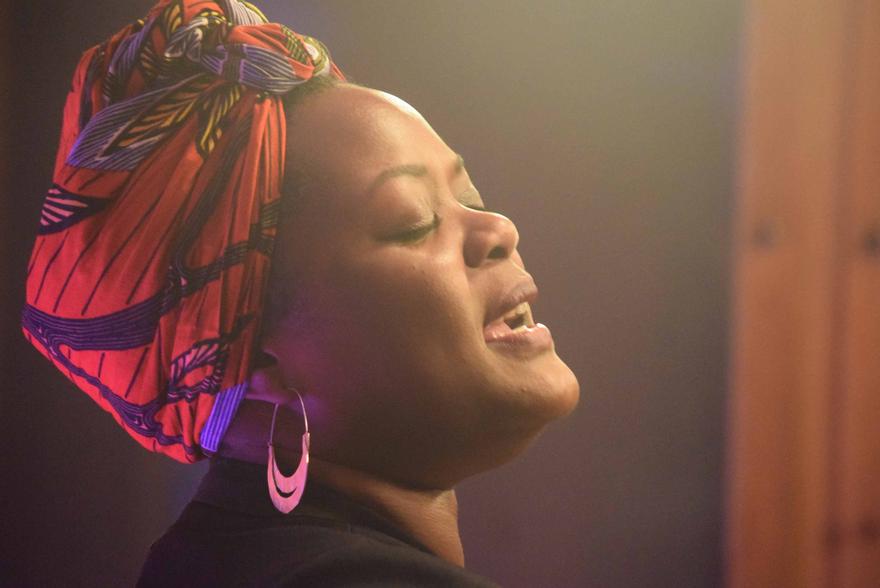 For a singer-songwriter, there's no more basic function than getting onstage and getting something personal off your chest. The therapeutic qualities of the experience have seduced countless confessional composers, some of whom make known that they hold unfiltered expression as their highest artistic aim.
Kyshona Armstrong started out enabling others to enjoy the healing properties of songwriting, and keeping her thoughts to herself. When you're a music therapist to incarcerated and institutionalized adults and school children with emotional behavior disorders, artistic considerations aren't even on the table.
"I definitely had to accept the fact that when I'm writing with a patient, whatever they want to do is what they want to do," Armstrong tells the Scene as she nurses a latte in East Nashville. "It's their song: 'Even if it might not fit in a form, if that's what you want to say, say it. We're not writing a big hit. This is for you.' "
Armstrong got on the college singer-songwriter circuit, blending skills of empathizing and entertaining. Her set lists might put a strummy version of Britney Spears' "Toxic" next to "Confined," a song she'd written with a couple of 20-somethings in the mental hospital. They were the hip-hop heads in the patients' band otherwise made up of Elvis-obsessed middle-aged men and they'd wanted a song in the group repertoire that spoke to their own experience.
Armstrong moved to Nashville in January 2014, spending the first couple months commuting back to Athens to record her album Go, but easily made friends and landed bookings in local folk singer-songwriter, pop and soul scenes once she was around more. Smack-dab in the middle of Go is a song that distills the insights of her therapeutic work and the artistic aspirations she's developed since. Called "Cornelius Dupree," it's the turbulent channeling of a black man's real-life experience serving 30 years in Texas for rape and robbery before being exonerated. Rather than narrate the external
details of Dupree's story, Armstrong gives voice to the searing physical and emotional strain he must've felt having to defend his innocence for so long. "That one took me a long time," she says of the song, "because I wanted to do it right. I tried it from the outside looking in. But in the end I was like, 'I have to put myself in those shoes.' "
Armstrong has reached the point where she embraces repetitive internal rhythms that emerge in some of her songwriting likening them to both gospel spirituals and the viscerally simplistic utterances of her former patients and she's delivering her roots-soul originals with articulate warmth and newly claimed authority.
"I feel like I'm only just now stepping into this activist role," she says, "or not activist, but someone who speaks out or brings up a subject that's uncomfortable. In the past, I haven't been the one to [say], 'I'm gonna throw some mess on the table, and we're gonna talk about it.' But I want to be."
We're thrilled that ELI LEV has agreed to open the show for Kyshona Armstrong. In just two years as a full-time musician, Eli has built a robust profile through wowing audiences each time he picks up a guitar. He has opened for national names like Shooter Jennings at The Fillmore in Silver Spring, Maryland and Ellis Paul at Jammin Java in Vienna, Virginia. Eli has appeared at Burning Man in Black Rock City, Nevada, Music on the Mall Festival in Washington DC, and at Kennedy Center Millennium Stage for the METRO Performs Series.
With regional, national, and international tour dates coming up for 2019, Eli currently maintains a full schedule performing on what he has playfully dubbed the Beltway Tour. The tour boasts an impressive series of appearances at hundreds of venues throughout DC, Maryland, and Virginia at festivals, clubs, house shows, and special events, including a special invitation to perform at the US Capitol Building by DC Congresswoman Eleanor Holmes-Norton.
ALL PROCEEDS GO TO THE ARTIST.
---
Gallery photographs below by Amir Rahim
This concert is a private event. It is for friends and friends of friends. We sell tickets in advance to reserve seating as it is limited — we usually sell out. All of the proceeds from the sales of the reserved seating go directly to the artist. Please reserve your seat WELL IN ADVANCE. House concerts are a wonderful grassroots phenomenon! World-class musicians and developing local talent alike perform in the intimacy of private homes and similar nontraditional spaces!