New England Singer Songwriter Duo Ash & Eric with local favorites Griefcat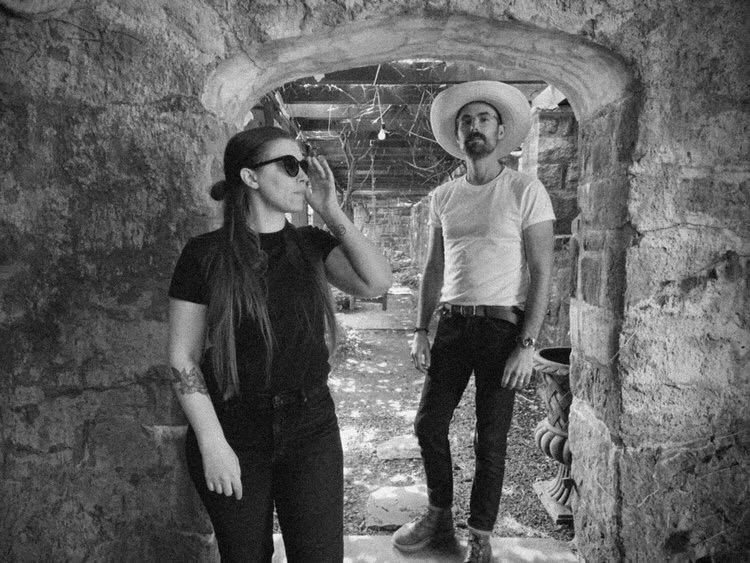 On the heels of releasing their critically acclaimed new rocord "Sure" last spring, we're excited to welcome Ash & Eric to The Sevareid House.
Ash & Eric have never shied away from life's hard edges. The married couple's new album "Sure" (May 2022) is "a tale of love… [with] some heartaches and a pinch of disputation along the way" (Americana UK). Hailing from the gritty heart of New England (Worcester, MA), the two find consolation in discovering beauty in the challenges of life. Their musings reflect the hope and pain we all experience, sung in voices as vulnerable and honest as their lyrics. Their songs feel like a warm welcome, a shoulder to lean on and a hand to hold at the end of a long day. No Depression says their writing will leave listeners "...coming away from many of these [songs] cleansed,". Their warm harmonies, swirling acoustic guitars, and easy stage presence have earned them a dedicated following in the emerging US folk scene, performing with folk legends like Livingston Taylor, Mark Erelli and Vance Gilbert. Their independent 9-song release, "Sure", was recorded, mixed and produced by Eric at a boarding school in Western Massachusetts, and will be accompanied by a feature-length film, releasing fall 2022.
Described as "Local Favorites" by Washington City Paper, Griefcat is comprised of veteran singer-songwriters Louisa Hall and Annie Nardolilli. Annie and Louisa met behind the scenes at a variety show in 2015, and felt an immediate kinship after Annie sang about a Hot Park Ranger, and Louisa about her Barista Boyfriend. They reunited to play the 9:30 club in 2018 and vowed to form a band: Griefcat. They scheduled their first rehearsal in 2019, wrote a song about vaccines and eggrolls, and the rest is (recent) history.Griefcat's songs range from hilarious to sincere with a unique sound akin to Flight of the Conchords, mixed with a little Dolly Parton and an indie flair. Griefcat entertains with music about the trials, joys, and tribulations of modern life. As one concert goer said, seeing Griefcat was "the most fun I've had since Lizzo". They recorded their first album, "Griefcat", at Ivakota Studio in Washington, DC.
THIS IS AN OUTDOOR SHOW. We will not require masks in the backyard but ask that you bring one if you need to use the bathrooms inside and in case of rain, which will move the show indoors. Bring a lawn/beach chair, a drink and your snacks and enjoy live music in our award winning garden
This concert is a private event. It is for friends and friends of friends. We sell tickets in advance to reserve seating as it is limited — we usually sell out. All of the proceeds from the sales of the reserved seating go directly to the artist. Please reserve your seat WELL IN ADVANCE. House concerts are a wonderful grassroots phenomenon! World-class musicians and developing local talent alike perform in the intimacy of private homes and similar nontraditional spaces!