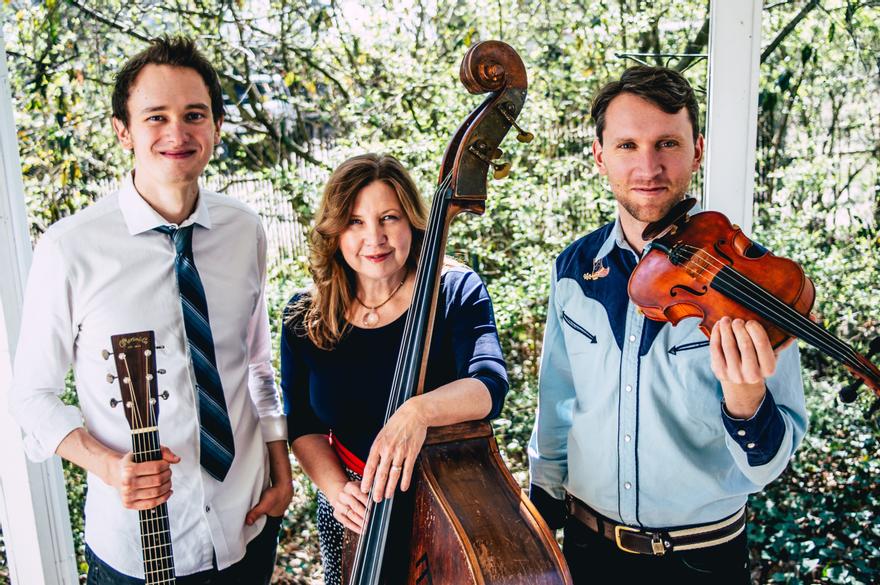 From her tenure playing with The Claire Lynch Band, to her 7 International Bluegrass Music Association Bass Player of the Year awards, Missy Raines has proven herself without doubt as an iconic bluegrass instrumentalist. But with her newest release, Royal Traveller, Raines has stepped into the spotlight as a songwriter for the first time. The album digs deep into Raines' family life and her upbringing in West Virginia. Featuring an array of incredible musicians including some previous and current members of her live band, and cameos from other bluegrass greats such as Stuart Duncan and Tim O'Brien, the album is a gorgeous look into the perspective, history, and musical influences of one of Nashville's most beloved musicians, Missy Raines.
Raines now leads her own innovative and genre-bending trio, which is
a rich, jazz-tinged combination of her bluegrass roots and thick Americana featuring George Jackson on the fiddle and Ben Garnett on acoustic guitar. With a smoky and seductive alto, Missy Raines heads up this trio featuring mandolin/fiddle, upright bass, and acoustic guitar. The territory the trio covers is broad and the compass is set by Raines, planted center stage, directing with her bass every bit as much as she's playing it.
Recently, Raines won an IBMA award, along with the other "first ladies of bluegrass" - Alison Brown, Becky Buller, Sierra Hull, and Molly Tuttle, for their video of "Swept Away. The latest news is that the video has also been nominated for a Grammy Award. Way to go Missy!
---
Gallery photographs below by Amir Rahim
This concert is a private event. It is for friends and friends of friends. We sell tickets in advance to reserve seating as it is limited — we usually sell out. All of the proceeds from the sales of the reserved seating go directly to the artist. Please reserve your seat WELL IN ADVANCE. House concerts are a wonderful grassroots phenomenon! World-class musicians and developing local talent alike perform in the intimacy of private homes and similar nontraditional spaces!