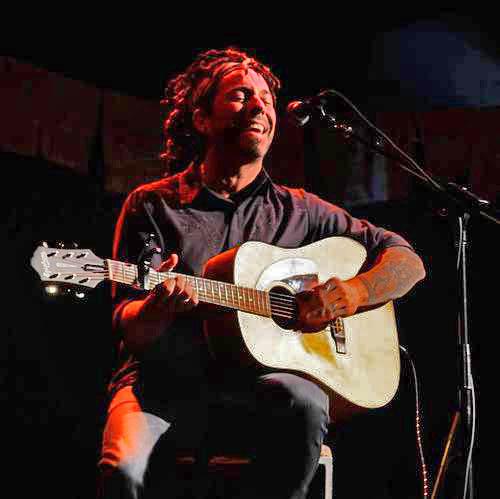 ROBINSON TREACHER: At the crossroads of Blues, Folk and Americana lies Robinson Treacher. Whether it be in the studio or in live performance, Robinsons emotionally dramatic songwriting style is matched only by his deeply passionate vocals. Steeped in what can only be labeled as a traditional songwriting format, Robinson has taken fibers from all genres...rock, country, R&B;, and folk, and woven them into a distinct tapestry, one that is clearly distinguishable among others in the singer/songwriter genre.
Born and raised in New York, his honesty and grit reflect the eclectic musical influences that have shaped everything from downstate New York City to the upstate Adirondacks. On the heels of his last release, Porches, Robinson has released Born, a purposefully stripped down collection of songs that rarely contains more than an acoustic guitar, an upright bass and of course those powerfully distinct vocals. Robinson has been featured on Sirius/XMs The Loft: Live from The Living Room series and has shared the stage with such notable artists
as Vince Gill, Iris Dement, GE Smith, Joan Osborne, Cheryl Wheeler, Amy Helm and Carrie Rodriguez.
CASSIDY CATANZARO: Some say it's her range. That its her ability to traverse multiple octaves across an uncannily wide vocal spectrum that makes her such an incredible performer. Others say its her power. And thats what made her a natural to be the lead singer of the rock band Antigone Rising, why they toured with the Rolling Stones, and why their subsequent record sales broke sales records. And yet, those that have seen her perform up close will argue that her heart is her true instrument and that this is what makes her genuine.
And whether shes writing songs, starring in a feature film or leading an incendiary rock band in an unforgettable live concert, there is one thing that the entire world can agree upon, Cassidy is all about The Music.
ALL PROCEEDS WENT TO THE ARTIST.
---
Outside photographs below by Amir Rahim
This concert is a private event. It is for friends and friends of friends. We sell tickets in advance to reserve seating as it is limited — we usually sell out. All of the proceeds from the sales of the reserved seating go directly to the artist. Please reserve your seat WELL IN ADVANCE. House concerts are a wonderful grassroots phenomenon! World-class musicians and developing local talent alike perform in the intimacy of private homes and similar nontraditional spaces!